[Exchange Project Report] Tachikawa City Kindergarten and Other Schools Held Exchange Events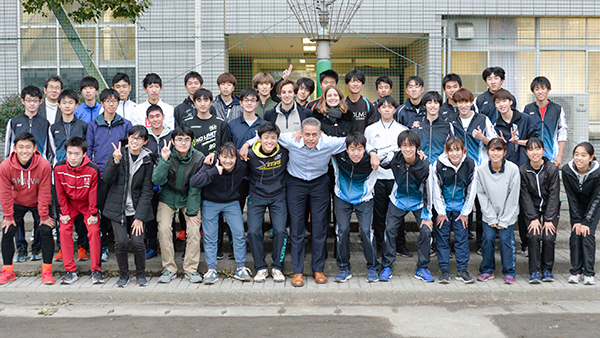 Ricardo Probert, Sports Director, Pan American Sports Organization "PASO", visited a kindergarten and other schools in Tachikawa city, and participated in interactive events on Friday the January 17th, 2020.
They first visited Ishikawa-gakuen Kobato kindergarten.
The kids warmly welcomed PASO by decorating the stairs with flags of member nations of the organization. The kids and teachers had a welcome ceremony in the hall and they gave them flowers and Senba-zuru, one thousand paper cranes, decorated with the PASO logo.
After the ceremony with great interest the kindergarten watched Mr. Ricardo and the PASO members experience making Origami flowers and writing words like "五輪"(Olympics) and "友好"(Friendship) in traditional Japanese calligraphy. Japanese culture was enjoyed by all.
Next, they visited Saiwai elementary school. Mr. Ricardo gave a lecture and taught the kids about the meaning of the Olympics symbol, the events that they have in the Olympics, and the greetings.
Many kids participated actively, raised their hands and answered in English to Mr. Ricardo's question, "Which Olympic events do you know?" They finished class with "thank you!" from all the students, and after that they had a school lunch together.
Lastly, they visited Tachikawa high school. Mr. Ricardo along with a moderator, ESS club student gave an introduction about their project, also had quizzes about Olympics and sports, and the winners got PASO original pin badges.
They moved to the field and had a relay race after class. At the end of the activities, they took a commemorative photo, having arms around each other's shoulders, with big smiles.
Thank you to all the people who cooperated and participated.
Stay tuned for other Panam Sports Exchange Project activities in the future.